China agricultural products manufacturer|China Nut wholesale suppliers|Custom agricultural products
Xinjiang GOODLUCK is the leading provider of quality chestnuts and is well-received by all over the world. We have many farm bases and factories to produce chestnuts with no artificial coloring & preservatives and use clean and safe facilities for making chestnuts with high quality. Xinjiang GOODLUCK'S chestnuts have a large kernel rate and they are rich in their own scent and the texture is very soft. If you want to buy our chestnuts in bulk, we will supply customized packs like woven pp bags, vacuum bags and cartons which are all easier to deliver. We have a wide range of chestnuts' sizes, such as 30-40-50-60-70-80Pcs/Kg, so we can meet your different demands.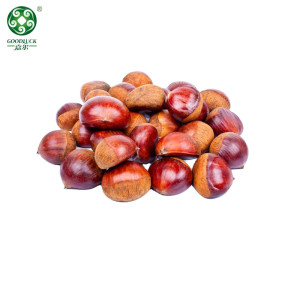 Xinjiang GOODLUCK's quality roasted and raw chestnuts in shell have a large kernel rate and packaged in customized packs.
What are the benefits of walnuts

Walnuts of GOODLUCK GROUP provide healthy fats, fiber, vitamins and minerals — and that's just the beginning of how they may support your health.

Use of Walnuts in New Product Formulations

Walnuts play a leading role in the food industry - especially in new product development. In this article, we will delve into the uses of walnuts in different food industry sectors.