Green mung beans of Xinjiang GOODLUCK are Non-GMO and without additive. We have several farm bases and factories so that we supply year-round availability, quality assurance. Our green mung beans are new crop and can be kept for long-distant delivery. We are the professional manufacturer of bulk green mung beans and we can allocate the agricultural resources all over China in a short time and export green mung beans all over the world. For the better business experience, we supply customized packs that make our green beans easier to ship. Specially supplied by soybean wholesalers and supermarkets across the country and domestic and foreign food manufacturers, a reservation system ensures your goods.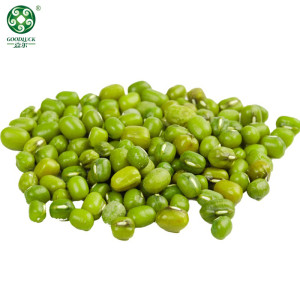 Xinjiang GOODLUCK's green mung beans are come from the sunny China northeastern soil where is the best place to grow mung beans
What Nutrients Does Pistachio Have?

Pistachios have a variety of nutrients, which can supplement a variety of required elements in the body. Today, let's talk about the nutritional content of pistachios.

5 Benefits of Eating Raisins Every Day

Raisins have a variety of nutrients, regular consumption is very beneficial to all aspects of the human body. Today, let's talk about the benefits of eating raisins every day.