China agricultural products manufacturer|China Nut wholesale suppliers|Custom agricultural products
Goji(Wolfberry) Wholesale
Goji is also called wolfberry in some western countries. Xinjiang GOODLUCK's dried goji usually origin from Ningxia and Gansu, the best places to grow goji berry where have appropriate soil, plenty of sunshine and pure water. We have many bases to product goji so that our output is large and stable. We can supply goji 1000 Metric Tons per Year. If you want to buy goji berry in bulk, we will package our products in customized packs, such as cartons, pp bags and vacuum bags. Our goji products have several packing specifications including 500g/bag, 1kg/bag, 5kgs/bag Or 10kg/bulk package. We spare no effort to meet your customization! Choose our goji, we will be delivered as your need——all at wholesale price!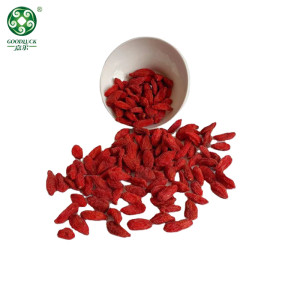 China hot sale natural quality goji raw wolfberry supplied by professional manufacturer are packaged in customized packs
What are the benefits of walnuts

Walnuts of GOODLUCK GROUP provide healthy fats, fiber, vitamins and minerals — and that's just the beginning of how they may support your health.

Use of Walnuts in New Product Formulations

Walnuts play a leading role in the food industry - especially in new product development. In this article, we will delve into the uses of walnuts in different food industry sectors.